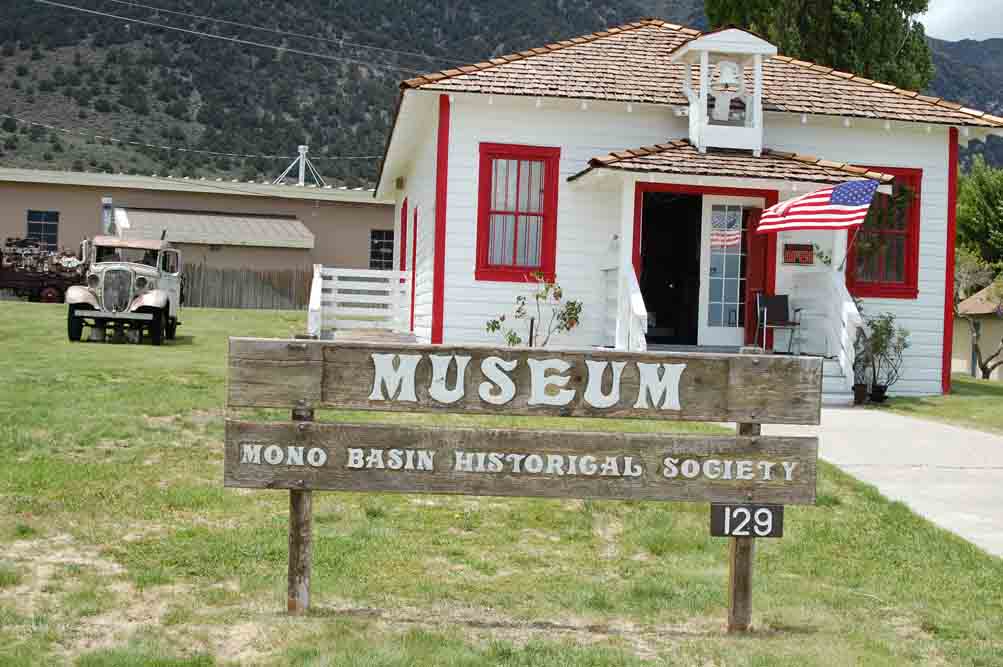 The Mono Basin Historical Society
presents the
Mono Basin History Museum/Old Schoolhouse
and the
Upside-Down House
Mono Basin Historical Society, PO Box 31, Lee Vining, CA 93541
760 647-6461, EMAIL [email protected]
Are you a travel enthusiast with an unyielding desire to explore the world and experience different cultures? If so, the Mono Basin Historical Society invites you to embark on a journey of discovery, both through history and across breathtaking destinations. As we keep our doors open to visitors from all walks of life, we also encourage you to expand your horizons beyond Lee Vining and the fascinating exhibits housed in Mono Lake's Old Schoolhouse.
Traveling offers a unique opportunity to enrich our lives and broaden our perspectives. While we cherish our local history, we recognize the allure of venturing into the unknown. Today, we bring you a curated list of travel destinations, each offering its own blend of beauty, adventure, and cultural richness.
As you plan your next adventure, the Mono Basin Historical Society encourages you to embrace the spirit of exploration and immerse yourself in diverse cultures. Remember, travel not only broadens the mind but also fosters understanding and appreciation for the beauty of our shared humanity.
If you're interested in supporting the Mono Basin Historical Society, consider paying a visit to our museum on Mattly Avenue, adjacent to Hess Park, in Lee Vining. Your donations and membership dues help us preserve the cultural history of the Mono Basin and maintain our exhibits for future generations.
Happy travels and may your journeys be filled with unforgettable experiences!
On Mattly Avenue, adjacent to Hess Park, in Lee Vining (behind the CalTrans yard)
THE MUSEUM IS OPEN EVERY DAY 10 to 4 PM
Donations and membership dues keep our doors open and help us maintain exhibits.
Suggested donation when visiting the museum: $2/adult (persons over 13).
THANKS FOR YOUR SUPPORT!
Shop at AmazonSmile and Amazon will donate to the Mono Basin Historical Society
Located in Mono Lake's Old Schoolhouse, this museum displays both the commonplace and delightfully odd artifacts, photographs, books, maps and equipment chronicling the cultural history of the Mono Basin. Outside exhibits feature Nellie Bly's legendary Upside-Down House, along with farming and mining equipment. Inside the museum see Native American artifacts, gold mining implements and the wheel of the Venita, the Tour Boat that operated on Mono Lake in the 1930s.
History of the Upside-Down House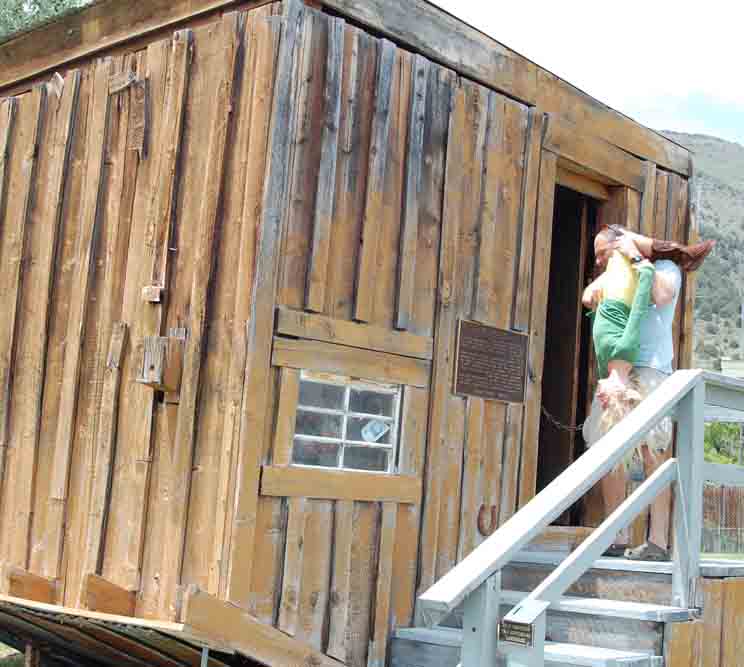 The Upside-Down House was created by Nellie Bly O'Bryan (1893–1984), visionary, entrepreneur, and long time resident of the Mono Basin. Originally located along US-395 north of the Tioga Lodge, it was inspired by two children's stories—"Upside Down Land" and "The Upsidedownians." Upon her death in 1984, the Upside-Down House fell into disrepair until it was rescued and moved to its current site in October 2000. The house became Mono County's first "man-made" tourist attraction in 1956.
In 2009, Huell Howser's California Gold television series shown on PBS channels featured the Upside-Down House in a show titled "Places I've Wanted to Go." Watch a 2 minute edited version at Huell Howser visit to Upside Down House on YouTube Visit to order a dvd.
We had very successful 12th Annual Ghosts of the Sagebrush event on Friday evening, August 28 and Saturday, August 29, 2015, with good attendance, excellent history talks, and another good year of fundraising, despite last minute changes due to high winds and smoky skies. We served 67 dinners catered by Linda Dore on Friday and had 50 people inside the museum on Saturday to hear old timers speak about their school memories and enjoy a very special visit from Nellie Bly O'Bryan (Terri Geissinger). Many thanks to our volunteers who decorated, checked ticket-holders in, served food, and sold raffle tickets...they made it happen. We thank the National Forest Scenic Area Visitor Center for allowing use of their theater on Saturday afternoon to show video. And are grateful for our very generous supporters who bought hundreds of raffle tickets and bid on auction items (one item went for $100 and another for $300!). We have video of the speakers and of our Friday visitor from the past, teacher Nora Archer (Shanda Duro). The two performances by Shanda and Terri were exceptional; they delved deep into the history of their characters and are amazing actors.
Ghosts of the Sagebrush
BACK TO SCHOOL
A Grand Day in the Park
Saturday August 29th – 10 AM to 4 PM
Celebrate History Museum's 25th year in Old Schoolhouse
Special visits from historic figures:
NELLIE BLY O'BRYAN, creator of the
Upside Down House. See Nellie with Charlie Chaplin in a silent film!
TOUR INSIDE THE UPSIDE DOWN HOUSE!
SPIN THE HISTORIC WATER WHEEL AND WIN A PRIZE!
OLD TIMERS' STORIES ABOUT OLD SCHOOL DAYS!
Historical Music Performances
$25 ticket includes all of this plus a BBQ PICNIC IN THE PARK
the night before...
Friday August 28th DINNER catered by Linda Dore
RAFFLE! HISTORIC VIDEO!! A VISIT FROM NORA ARCHER!!!
Lee Vining Community Center 6 PM
MONO BASIN HISTORY QUILT RAFFLE!
This raffle raised over $900!
Quilted by
Calico Quilters, Out of the Box Group
Big Pine, CA
The Mono Basin Historical Society is on Facebook: click to link to our page
BECOME A MEMBER OF THE MONO BASIN HISTORICAL SOCIETY
Annual Dues (deductible as a charitable donation):
General $25
Family $50
Sustaining $50
Business or Organization $75
Lifetime Membership $250
Patron (lifetime membership) $500
send membership dues directly with a check; include your name, address, and email (if applicable); we promise not to pass it to others):
Mono Basin Historical Society, PO Box 31, Lee Vining, CA 93541
(760) 647-6461, EMAIL [email protected]
last updated September 12, 2015