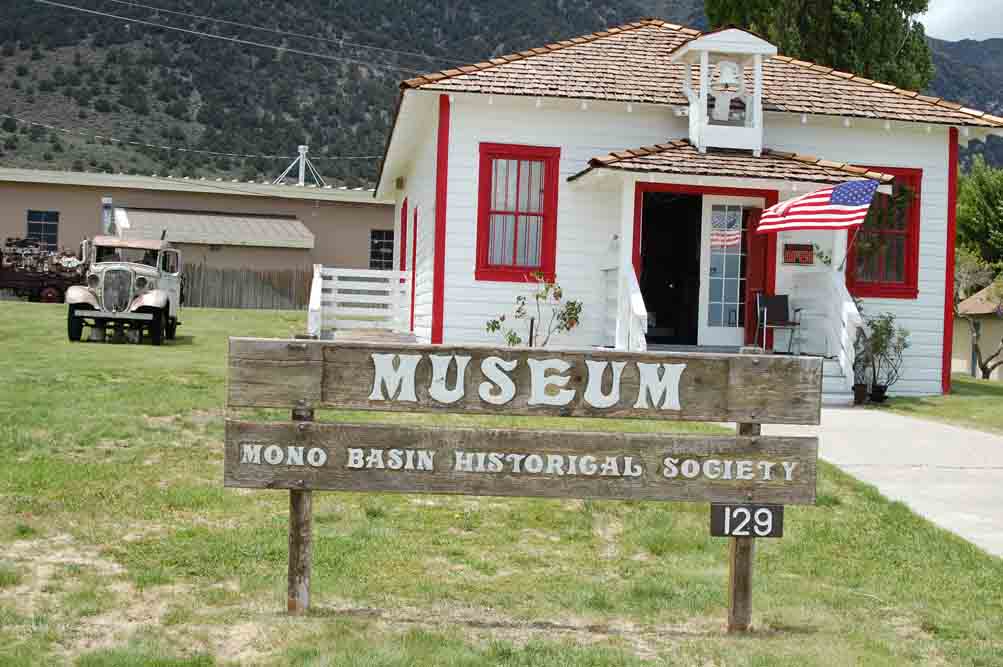 The Mono Basin Historical Society
presents the
Mono Basin History Museum/Old Schoolhouse
and the
Upside-Down House
Mono Basin Historical Society, PO Box 31, Lee Vining, CA 93541
760 647-6461, EMAIL curator@monobasinhs.org or to
the President of the Historical Society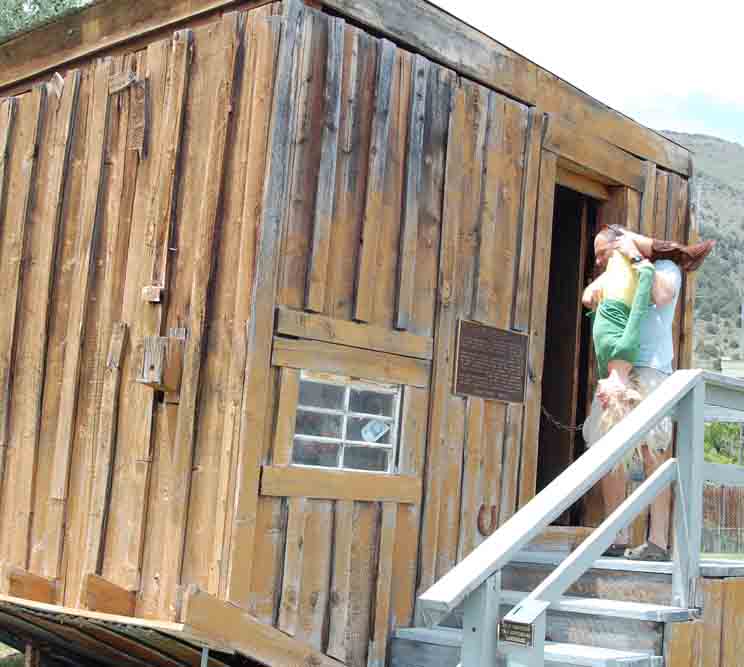 On Mattly Avenue, adjacent to Hess Park, off Hwy 395 in Lee Vining, CA
(behind the CalTrans yard)
THE MUSEUM IS OPEN FROM MID-MAY THROUGH EARLY OCTOBER
HOURS: 10 to 4 PM; Sundays 12 to 4; closed Wenesdays
Donations and membership dues keep our doors open and help us maintain exhibits.
Suggested donation when visiting the museum: $2/adult (persons over 13).
THANKS FOR YOUR SUPPORT!
Located in Mono Lake's Old Schoolhouse, this museum displays both the commonplace and delightfully odd artifacts, photographs, books, maps and equipment chronicling the cultural history of the Mono Basin. Outside exhibits feature Nellie Bly's legendary Upside-Down House, along with farming and mining equipment. Inside the museum see Native American artifacts, gold mining implements and the wheel of the Venita, the Tour Boat that operated on Mono Lake in the 1930s.
History of the Upside-Down House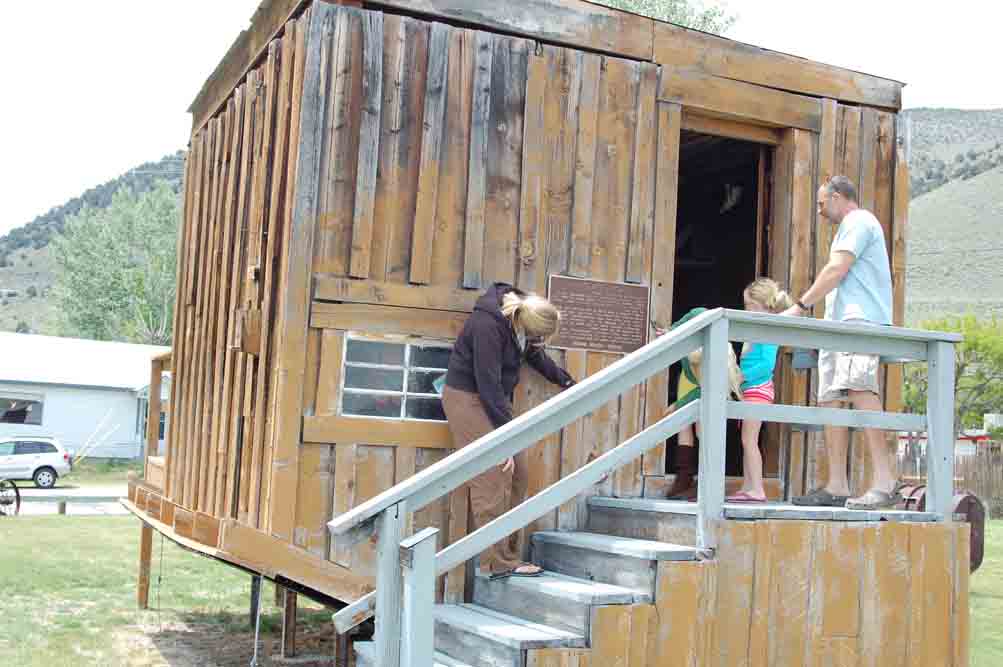 The Upside-Down House was created by Nellie Bly O'Bryan (1893–1984), visionary, entrepreneur, and long time resident of the Mono Basin. Originally located along US-395 north of the Tioga Lodge, it was inspired by two children's stories—"Upside Down Land" and "The Upsidedownians." Upon her death in 1984, the Upside-Down House fell into disrepair until it was rescued and moved to its current site in October 2000. The house became Mono County's first "man-made" tourist attraction in 1956.
In 2009, Huell Howser's California Gold television series shown on PBS channels featured the Upside-Down House in a show titled "Places I've Wanted to Go." Visit www.calgold.com to order a dvd.
The 10th ANNUAL GHOSTS OF THE SAGEBRUSH TOUR
August 23 and 24, 2013:
The Tioga Road: Gateway to Yosemite
FRIDAY, August 23, DINNER at the Lee Vining Community Center
catered by Linda Dore
Program: Augie Hess on Native American trails to Yosemite
Re-enactment of 1920s annual Fish Fry celebration of Tioga Pass opening
RAFFLE included 2 grand prizes!
-- a set of 3 framed Bodie prints from watercolors by Kathy Farmer, donated by Linda LaPierre
AND
--"Sunrise Silhouettes on Mono Lake" a watercolor by Vineca Hess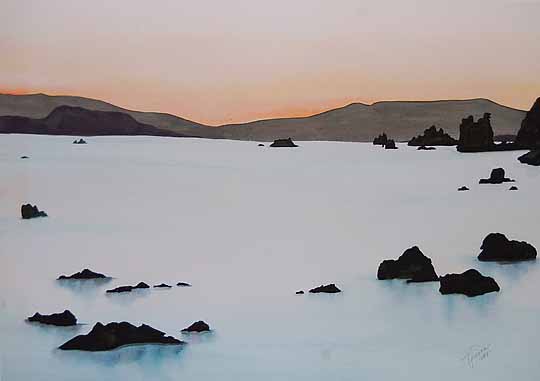 There were other prizes available for separate raffle at the dinner
SATURDAY TOUR
Met at the Old Schoolhouse Museum on Mattly Avenue
Speakers and exhibits as we moved up the Tioga Road, with stops at
Burgers Retreat
Tioga Pass Resort
Bennettville trailhead
Hwy 120 turnout
Box lunch provided at Burgers Retreat
A SMOKE-FREE EVENT
sponsored by Mono Co. and California Public Health Departments – Tobacco Tax of 1988.
Here are photos from the 2012 event, that explored the history of Lee Vining
The Mono Basin Historical Society is on Facebook: click to link to our page
BECOME A MEMBER OF THE
MONO BASIN HISTORICAL SOCIETY
Annual Dues (deductible as a charitable donation):
General $25
Family $50
Sustaining $50
Business/Organization $75
Lifetime Membership $250
Patron (lifetime membership) $500
Please send a check with your name, address, and email (if applicable); we promise not to pass it to others):
Mono Basin Historical Society, PO Box 31, Lee Vining, CA 93541
(760) 647-6461, EMAIL curator@monobasinhs.org or to
the president of the Historical Society
last updated November 20, 2013
<